Phil Mickelson is known for his playful personality, apart from being an incredible golfer. Even if he isn't playing on the course, he likes to make interactions with his fans and followers. On one such occasion, the golfer shared the most peculiar situation he has been in during a tournament.
Mickelson shared the incident as the very first story on his Twitter series 'Phireside with Phil.' Lefty had created this series in 2019 to share all the interesting episodes from his career with the golf world.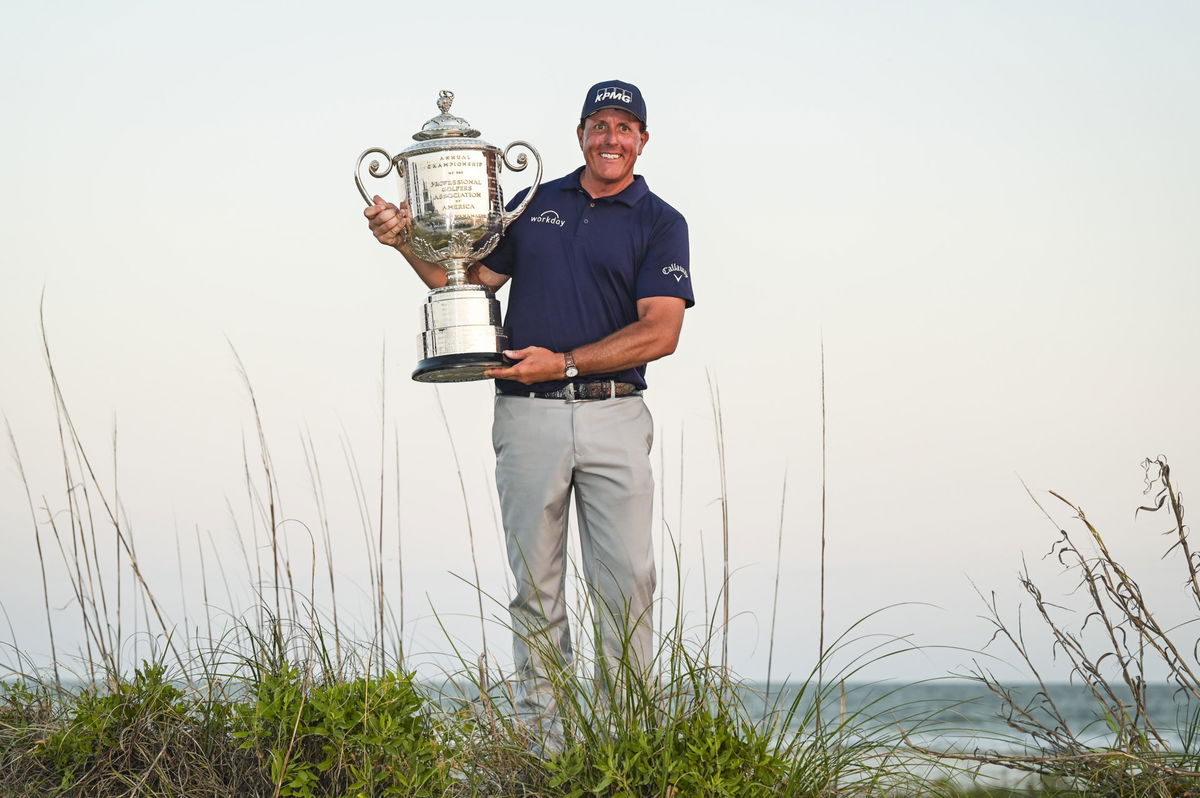 "My first story took place during the Memorial Tournament back in 2006 or so," Mickelson said in the video. He explained that the tournament was interrupted due to bad weather and darkness during the second round. So, they had to reconvene again the next morning, 7 am. However, the Tour officials began to cut a new hole while they were playing.
Mickelson thought it was weird for them to do that and repeatedly asked for them to stop their work. He said to them, "I raised my hand and said, 'Hey, we are not done.'" However, the officials didn't stop their work and kept digging for a new hole.
Phil found this behavior odd and went straight to the green to talk to them. They finally answered his question. The Tour official said to him, "Someone took a dump in the cup!" That was all the golfer needed to back off from the scene and let them do their work.
https://twitter.com/PhilMickelson/status/1141077530423824386?ref_src=twsrc%5Etfw%7Ctwcamp%5Etweetembed%7Ctwterm%5E1141077530423824386%7Ctwgr%5E%7Ctwcon%5Es1_&ref_url=https%3A%2F%2Fwww.essentiallysports.com%2Fpga-tour-golf-news-someone-took-a-dump-in-the-cup-when-phil-mickelson-experienced-an-appalling-golfing-situation%2F
The story might be appalling to hear. However, it is a real incident that happened to one of the best golfers in the world.
The successful career story of Phil Mickelson
Since he turned pro in 1992, Mickelson has been winning the championship titles. In his thirty years of career, Lefty had won 56 tournaments worldwide, including 6 majors.
Lefty won his last title at the PGA Championship in 2021, making him the oldest to win a major. He has also been part of the Presidents Cup and the Ryder Cup multiple times.
Indeed, it is interesting to know what happens in the 'behind-the-scenes' of an official tournament? What did you think of Mickelson's unique experience?