British number one Raducanu, 19, twice trailed by a set and a break, but dug deep to eventually win 6-7 (4-7) 7-5 6-1 on the Roland Garros clay.
"It was an absolute battle. I'm proud of the way I fought," Raducanu said.
The US Open champion will face Aliaksandra Sasnovich of Belarus in the second round.
Raducanu, seeded 12th, sealed a memorable victory on her first match point with a forehand winner that wrongfooted 17-year-old Noskova.
It left the Briton jumping for joy in celebration after coming through a scrap that ranks as one of her finest victories since winning the Grand Slam title in New York last year.
"Linda really came out there firing and as soon as I dropped my ball speed she was all over me," Raducanu said.
"It was really challenging in the second set – I'm really proud of how I fought but all props to Linda."
Raducanu feeling 'physically good' despite caution over slippier surface
While Raducanu has achieved so much already in her short professional career, she continues to break new ground and the latest is playing among the world's best at Roland Garros.
The 19-year-old only made her top-level debut on the clay during Great Britain's Billie Jean King Cup tie against the Czech Republic last month, following that up with some positive performances in Stuttgart and Madrid.
This was Raducanu's best win on the surface yet. Not only because she came back from a losing position against a talented opponent but also considering a back injury had "thrown into doubt" her participation at the clay-court Grand Slam.
Raducanu broke serve in the first game of the match and threatened to move into a 3-0 lead before Noskova held off three break points to escape with a gritty hold.
Noskova, who won the 2021 girls' title at Roland Garros, levelled at 2-2 after a poor service game meant the Briton's encouraging start was not reflected on the scoreboard.
Conditions turned as rain started to come down on a chilly Paris afternoon and Raducanu – because of her back issue – appeared keen to go off court rather than wait around for a decision.
"I was quite surprised we stayed on. It was quite slippery at the baseline and I just wanted to be extra cautious. I didn't want to take any risks," she said.
"I am pretty pleased with how I was out there physically and I feel really good."
Despite the shower, the players remained on court and it was Noskova who dealt better with the change of weather.
From holding a 4-2 lead, Raducanu found herself 5-4 behind and Noskova went on to win the tie-break following a flurry of winners off both wings.
"It was difficult because the balls and court were so heavy, so it wasn't doing much," Raducanu said.
"Then in the second and third sets the conditions sped up a little bit, it was less windy and less rain, so it was about adapting."
Rare position as the experienced player sees Raducanu through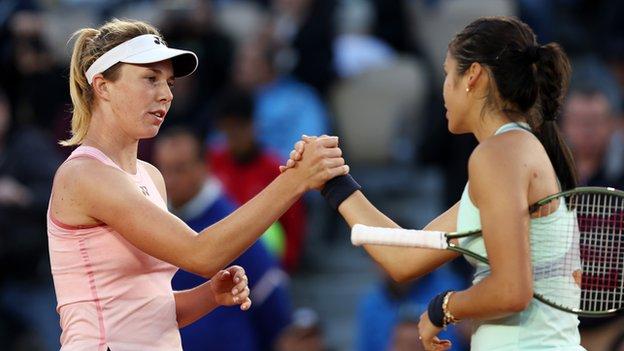 As a teenage phenomenon herself, Raducanu will not often face a younger opponent and perhaps not one this year as talented as Noskova.
In the end it was Raducanu's experience which told as she avoided losing to a teenage qualifier – like she was herself in New York.
"She is pretty young but she's in great form – and qualifiers are definitely pretty dangerous," said Raducanu.
"I know she's new to the tour, but in a way that helps if when you are brand new – you're just swinging, you're free, and I think she definitely was doing that.
"I knew that if I got through some really tough moments in the second set, it might get to her. And I think in the third set I definitely was able to keep pushing.
"Eventually I was dominating more and more."
Raducanu twice fell a break behind in the second set, but immediately wiped out the deficit each time as the drama and quality ramped up.
At 6-5, Noskova's backhand began to break down and, after three set points were saved by the Czech, Raducanu levelled at the fourth opportunity with a rare and perfectly executed drop shot.
That gave added momentum to Raducanu going into the decider. Resisting pressure on her serve at 1-1 further deflated Noskova, who was appearing to tire and no longer finding the same accuracy with her shots.
Raducanu continued to play smartly and ruthlessly broke twice more as she moved into the second round.