EMMA RADUCANU AND GEMMA CHAN are reminiscing about their school days. Though the pair have never met in person, and there are 20 years between them, they have a lot in common. They both grew up in Bromley, south-east London, and went to the same school, Newstead Wood. 'I think our house won Sports Day six years out of the seven I was there,' says Raducanu. 'I bet!' replies Chan, smiling.
Their conversation feels easy, like one between old friends rather than a first-time meeting over Zoom. Raducanu is calling in from a quiet moment during practice near her home in Bromley; Chan from her house in Primrose Hill, with a couple of guest appearances from her black cat, who paces in front of the camera. It seems like a long-overdue rendezvous for two women who have a deep admiration for each other. Raducanu shares that out of the 'fewer than 10' films she's watched in her life, one was Crazy Rich Asians ('I really loved it!'). Chan demurs with a playful, 'Really?'
As Raducanu prepares for her return to Wimbledon this summer after a year of runaway success and triumph at the US Open, along with fashion ambassadorships for Tiffany & Co, Dior and Nike, she is staying grounded with the familiarity of training at home. 'I come back to Bromley all the time,' she says. 'I'm still here, with the same neighbours, same everything – I was playing tennis in the street during the last lockdown, right in front of the "No Ball Games" sign.'
Neither Raducanu nor Chan expected to be role models, yet for many, particularly young East and South-East Asian women and girls, they are. Both have a deep appreciation for their heritage: Raducanu's lock screen is a photo of Chinese tennis star Li Na, whom the 19-year-old calls her biggest inspiration, for, 'both her physicality and mental toughness – she never really said much, but everyone knew she was like a lion inside,' she says.
Chan says Lucy Liu was a big influence. 'In my industry, role models have historically been few and far between. I just thought she was amazing, and took no prisoners. She was feisty and incredible,' she says. 'Representation is so important, and it's a reason for the next generation to look up to you. It's great seeing people coming through in all these different industries, being visible, doing well and being happy.'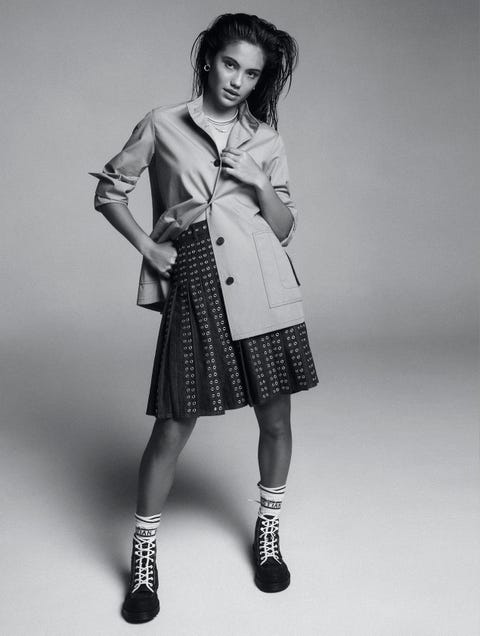 GEMMA CHAN: Congratulations on your incredible year – I've been cheering you on from the sidelines and just feeling so proud that another Newstead girl, another Bromley girl, is doing so well.
EMMA RADUCANU: Thank you. It's so nice to finally meet and talk with you.
GC: I know you did lots of different sports when you were growing up. What made you fall in love with tennis?
ER: I started because my dad was taking lessons in the park and my parents couldn't leave me home alone. I would ride my bicycle on the court next door, and then gradually he would throw me balls. I developed pretty good coordination after doing different sports like basketball and motocross, which helped my tennis in the end.
GC: Do you remember watching Wimbledon when you were younger?
ER: I remember my first trip to Wimbledon with my coach and another player who was my age. We were asking everyone for their autographs – and I mean everyone! I've still got photographs from that day. To be able to actually say that I've played on those courts, especially Court One and hopefully Centre Court, is pretty special.
GC: Do you feel that there's a different kind of pressure playing in front of the home crowd?
ER: I don't see it as pressure, because I feel like they're behind me; it's actually a really warm feeling. Last year, I kind of came out of nowhere and had never experienced anything like it – to have suddenly received all of that was amazing. GC: If you weren't playing tennis, what do you think you'd be doing?
ER: I'd probably get into finance, because I like maths and economics, which is what I did for my A-Levels. My parents have both been in that industry too. What about you? What would you choose?
GC: Well, I studied law, and then quickly realised that I would be a miserable lawyer. I'd have loved to do languages, or maybe history. I'm always wanting to learn new things. How many languages do you speak?
ER: I speak Mandarin – I'm not fluent, but I'm decent – and I understand Romanian [Raducanu's father is from Bucharest; her mother was born in Shenyang, China].
GC: Did you have Mrs Benson for French at school?
ER: Yeah!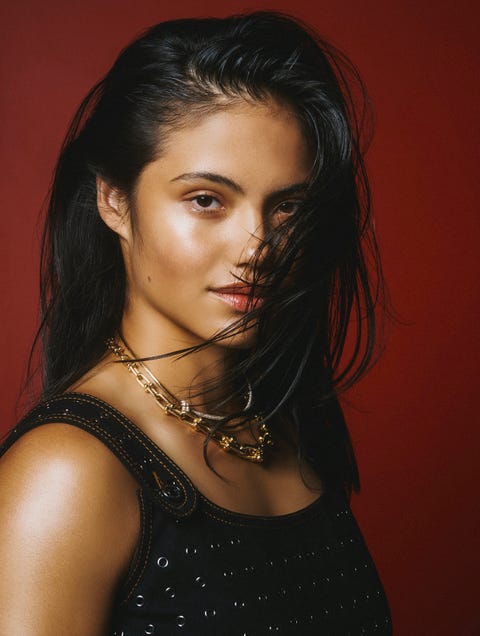 GC: What's been your favourite country to visit so far?
ER: Singapore – the whole time, I thought I was in Crazy Rich Asians. It was a really cool East-meets-West situation, which resonated with me because I'm half-Asian, and I could switch between Mandarin and English. It felt like a warm and comfortable place where I was welcomed straight away.
GC: I love Singapore. I had such a good time there as well. Did you go to the hawker markets?
ER: Yes! They were so good, I wanted to try out every place. Speaking with the locals was the best part: getting to know people and how long some of them have been there at the same stand was pretty amazing.
GC: Gosh, my mouth is watering just thinking about the things that I ate there – the chilli crab! What is your favourite food to eat?
ER: My all-time favourite is my aunt and grandma's cooking in China. The best memories I have are of us all crammed around a tiny kitchen table, sharing different dishes. That's something that I truly cherish, and the food is so tasty.
GC: Do you ever get homesick on the road? And do you take anything with you to remind you of home?
ER: I don't get homesick, but the things that I miss about home are mostly memories of familiar places, like the streets I grew up on. I think no item really feels like home, because it's not something that you can bring with you. But one thing that I take everywhere I go is a milk frother – it's my staple. Those little routines bring a sense of calm and stability to your life when you're away.