Old Lefty just can't help being relatable. It's one of the key reasons why the golfing great is beloved by so many. But that hasn't always been a positive for the six-time Major winner. According to federal auditors who were tasked with investigating his role within an insider trading scheme, between 2010 to 2014 alone, Phil Mickelson lost quite a bit of cheddar through gambling. The only difference between the big fella and us ordinary punters deleting our paycheques on the brickie's laptop every other weekend? His came to a grand total exceeding US$40 million / AU$57.5 million
The revelation came to light thanks to an excerpt from Alan Shipnuck's forthcoming biography entitled Phil: The Rip-Roaring & Unauthorised! Biography of Golf's Most Colourful Superstar, which was posted by the author himself on the Fire Pit Collective site:
Mickelson's love of gambling is fundamental to understanding his style of play as a golfer. It might also explain the Saudi seduction. Based on his comments to me, he clearly enjoyed the idea of sticking it to the PGA Tour, but the real motivation was plainly the funny money being offered by the Saudis. Why was Phil so eager to cash in, at the risk of alienating so many fans and endorsement partners?
The massive scale of Mickelson's gambling losses has never before been made public, but, as noted in the book, during the Billy Walters insider trading investigation, government auditors conducted a forensic examination of Phil's finances. According to a source with direct access to the documents, Mickelson had gambling losses totalling more than $40 million in the four-year period (2010–14) that was scrutinized. In those prime earning years, his income was estimated to be just north of $40 million a year. That's an obscene amount of money, but once he paid his taxes (including the California tariffs he publicly railed against), he was left with, what... low 20s?

Then he had to cover his plane and mansion(s), plus his agent, caddie, pilots, chef, personal trainer, swing coaches, and sundry others. Throw in all the other expenses of a big life - like an actual T-Rex skull for a birthday present - and that leaves, what... $10 million? Per the government audit, that's roughly how much Mickelson averaged in annual gambling losses (and we don't know what we don't know). In other words, it's quite possible he was barely breaking even, or maybe even in the red. And Mickelson's income dropped considerably during his winless years from 2014 to 2017.
The insider trading case surrounding Dean Foods would not result in any serious repercussions for Phil Mickelson, aside from being ordered to pay back approximately $1 million in stock gains he experienced based on tips from Billy Walters – or roughly a week's worth of income at the time slash a few weeks' worth of his annual gambling budget. Walters, on the other hand, was fined a relatively heftier US$10 million / AU$14.4 million and sentenced to five years in prison.
In the very same unauthorised biography, Alan Shipnuck details another gambling story brought forward by renowned golf journalist John Hawkins, wherein the latter witnessed Phil Mickelson place 50 bets within 20 minutes while they were alone in a Tour Championship locker room circa early 2000s.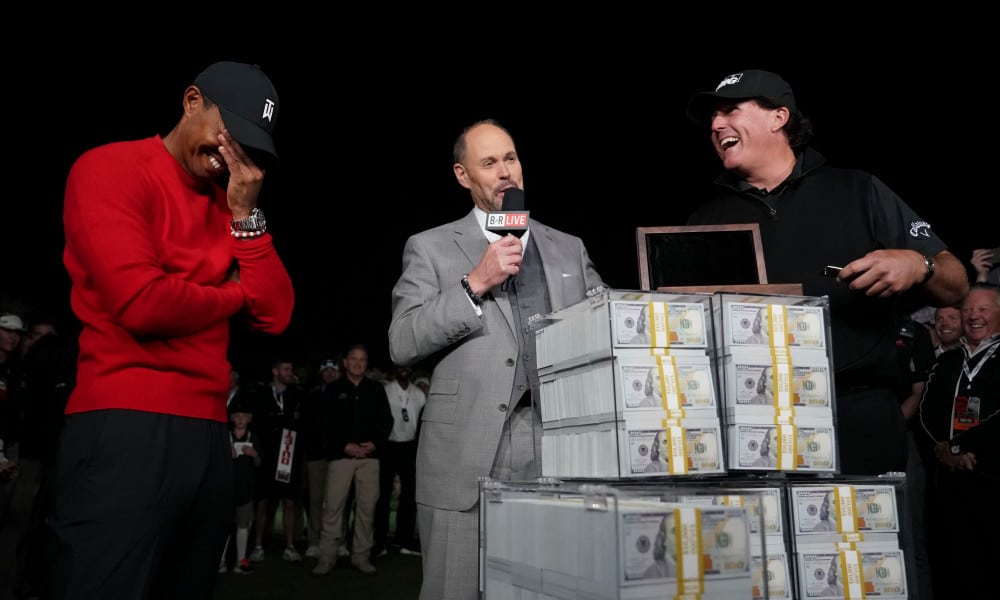 "Over 20 minutes he must've made 50 bets," recounts Hawkins, whose then-wife worked for Hugo Boss in assisting Mickelson with his clothing deal, placing him in an "especially awkward position" (hence why this is the first time we're hearing about it).
"It was like he was showing off… I've wondered about Phil's motivation in being so brazen in front of me. Was he trying to co-opt me? Was he testing my loyalty?"
At least now we have a slightly better idea why Lefty is so keen to cash in on Saudi Arabia's $3 billion Super Golf League, having already earned a tasty $42 million pay packet before he's even swung a single club at the LIV Golf Invitational Series.
As for when and where you can read all about Phil Mickelson gambling away his hard-earned stacks, Alan Shipnuck's Phil: The Rip-Roaring & Unauthorised! Biography of Golf's Most Colourful Superstar hits shelves on May 17th of 2022 during the PGA Championship – which Mickelson is the defending champion, although he's yet to state whether he'll actually play given the ongoing politics.