Serena Williams issued a powerful statement to express her sadness over the horrific Texas school shooting which took place in Uvalde on Tuesday.
The tennis pro joined many others around the world in sharing her heartbreak following the tragic massacre that saw 19 children and two teachers shot and killed by a lone teenage gunman.
Posting on social media, Serena penned: "I have been truly heartbroken by these heinous shootings. I keep praying for the victims and people affected by these crimes.
"I also Pray for God's Kingdom to come, but until then we know we are living in times that are indeed "hard to deal with". Matt 6:10; 2 Timothy 3:1-5."
Many other celebrities have taken to social media to express their sadness and rage over the tragic event, which saw an 18-year-old suspect enter Robb Elementary School with a handgun, an AR-15 semi-automatic rifle, and high-capacity magazines, according to investigators.
Julia Roberts shared a statement made by poet Amanda Gorman, which read: "It takes a monster to kill children. But to watch monsters kill children again and again and do nothing isn't just insanity – it's inhumanity."
Taylor Swift took to Twitter and wrote: "Filled with rage and grief, and so broken by the murders in Uvalde. By Buffalo, Laguna Woods and so many others. By the ways in which we, as a nation, have become conditioned to unfathomable and unbearable heartbreak."
Selena Gomez is from Texas and penned a heartfelt and sad social media post that read: "Today in my home state of Texas 18 innocent students were killed while simply trying to get an education," she wrote ahead of the updated figure.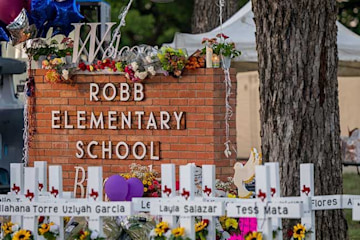 19 children and two adults were killed at Robb Elementary School
"A teacher killed doing her job; an invaluable yet sadly under appreciated job. If children aren't safe at school where are they safe?"
Texas Governor Greg Abbott said the shooter, who he named as Salvador Ramos, abandoned a vehicle before entering the school to "horrifically, incomprehensibly" open fire. He was killed by law enforcement after his attack.